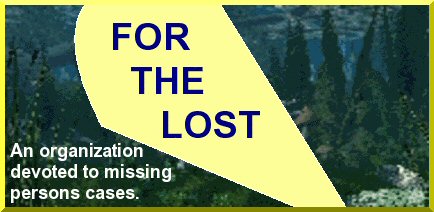 This site was last updated on March 10, 2015

Donations are accepted and welcome, but the site will always remain free.



This is the webpage of For the Lost, an organization devoted to missing persons cases. However, we differ from the other online listings in that the members actively work to solve the cases on the site.

We are currently researching 29 cases, and have a small membership. It is hoped through this website we will be able to acquire more members and thus take on a larger caseload.



There are many online forums that have and discuss missing persons' cases. How we are different

Recent site updates

Our current case files

The Adam Haseeb Memorial Pages photo directories (Family Abductions)

The Adam Haseeb Memorial Pages text listing directory

Jahi's Pages (Closed but unsolved cases)

California Kids photo directories (Poster Campaign)

California Kids text listing directory

Located persons

Our criteria for case inclusion

Our FAQ

Essays written by For the Lost members

A Glossary of Missing Person's Terms

A list of helpful links

The For the Lost Recovered Missing Persons Gallery

A list of some of the people that made this site possible

The For the Lost webmaster's blog

For the Lost on Facebook

To e-mail us on any subject, click here. Se habla Espaņol.

Search For the Lost


This work is licensed under a Creative Commons License.