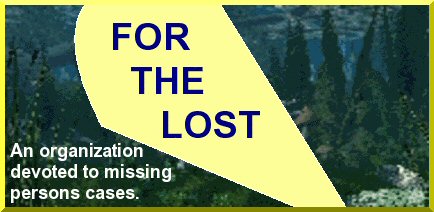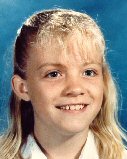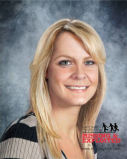 Above: Michaela Garecht in 1988 (left) and an age-progressed image to 33, circa 2012 (right)

Michaela Joy Garecht

Last seen in Hayward, California on November 19, 1988



Vital statistics: White female. Born on January 24, 1979. Blond hair, blue eyes. She has prominent ears, her eyes slant slightly downward and her teeth are slightly mottled. Last seen wearing pearl-colored or white earrings which resembled feathers, white t-shirt with "Metro" written across the front and images of people imprinted on the midsection, denim pants rolled above her knees, flesh-colored nylons; and black shoes with brown plastic soles. Was nine at the time.

Circumstances: She was abducted by an unidentified male in the parking lot of Rainbow Market, a local supermarket. A friend she was with had her scooter moved, and when Garecht tried to get it back, the abductor threw her into a car and sped off. Classified as a Non-Family Abduction.

Theories: Michaela Garecht's case is fascinating, mainly because it appears to be connected to a group of other disappearances in the area. Amber Swartz-Garcia, Amanda Cambell, and Jaycee Dugard all vanished within a close period of time in the same general area. (Ilene Misheloff also vanished in the same period of time; however, I believe her disappearance is not connected to the others for reasons I will state below.) Even more strikingly, all the girls bear a physical resemblance to each other- they are all blue-eyed blonds with similar facial features. One could guess that the girls were abducted by the same suspect. Although Timothy Binder was a suspect in several of the disappearances, no real physical evidence tied him to the abductions. He appears to be a mentally disturbed individual who nevertheless is in all likelihood not the kidnapper. But then who is? Could it have been someone who wanted the girls for their own purposes? Someone who liked blonds? Of course, this leads us to wonder who the abductor might be. There seem to be no leads- until the abductor may have overpaid his hand. In 2002, a girl named Elizabeth Smart was kidnapped by a man named Brian David Mitchell, who believed God wanted him to take seven wives. Is it possible that Smart was not his first victim? Mitchell resided in California during the period in which the girls vanished, and all the girls not only look like each other, but also bear a resemblance to Elizabeth Smart. While this is only conjecture, it may be worthwhile to ask Mitchell about his connections to the four girls.

Update: While Mitchell is apparently not involved in her disappearance, Jaycee Dugard was found alive with an abductor who had similar purposes. Perhaps it is time to start questioning him?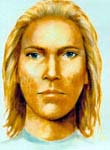 Above: A sketch of the suspect



If you have any information on Garecht's whereabouts, please e-mail For The Lost at this address. Or you may contact the Hayward Police Department at 510-293-7272. All tips sent by e-mail will be kept confidential.




Information used to compile this case file came from the following locations:
The National Center For Missing and Exploited Children
The Charley Project
The Doe Network
America's Most Wanted
Federal Bureau of Investigation
Operation Lookout
California Missing Persons Registry
NamUs National Missing Persons Data System

Back to the case files

Back home