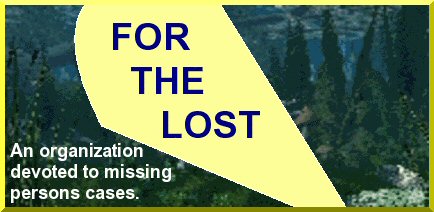 Cases, information on cases, and saying if a particular case was resolved or not can be mailed to us here. Or you may contact the listed agency; however since the cases are closed there may be no response.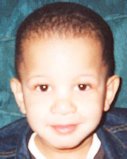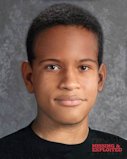 Above: Jahi Turner in 2002 (left) and an age-progressed image to 15, circa 2015 (right)

Jahi Marques Turner

Last seen in San Diego, California on April 25, 2002



Vital statistics: Black male. Born on February 10, 2000. Black hair; brown eyes. He is ambidextrous, has a light complexion and suffers from eczema in the creases of his body. Last seen wearing a long-sleeved blue shirt imprinted with images of Winnie The Pooh and Tigger, blue nylon cargo pants with an orange drawstring and gray Air Jordan shoes. Was two when last seen.

Circumstances: He was last seen in Balboa Park in the Golden Hill area near 28th Street and Cedar Street. His stepfather, Tieray Dewayne Jones, said that he left him near the sandbox while he purchased a soda from a nearby vending machine. Tieray stated that a woman and two children were near the area at the time. When he got back, Jahi had vanished. The woman has been identified; she provided unspecified information relating to Turner's case. Some believe that Jahi was murdered by his stepfather or otherwise accidentally killed due to diary entries Tieray had written at the time. No evidence has been unearthed that Jahi met with foul play, however. His stepfather is currently imprisoned on an unrelated drug charge. Classified as a Non-Family Abduction.

Reason for inclusion: Jahi's case was closed in January 2004 for unknown reasons. He remains missing. It was opened again several years later, but he remains here as our inspiration.

Contact info: FBI San Diego at 858-565-1255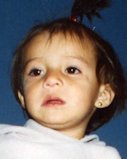 Above: Nelssy Gonzalez in 2003

Nelssy Jhajaera Gonzalez

Last seen in Concord, California on September 1, 2003



Vital statistics: Biracial (hispanic/white) female. Born on December 26, 2002. Light brown hair, black eyes. She has scars on her legs. Was eight months at the time.

Circumstances: She was abducted by her non-custodial mother. Photos and vital statistics for her are not available. Her father has applied for her return under the Hague Treaty. Classified as a Family Abduction.

Reason for inclusion: Nelssy's case was closed in 2011.

Contact info: Concord Police Department at 925-671-3030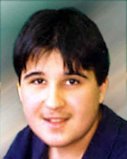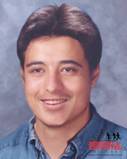 Above: James Higham in 2002 (left) and an age-progression to 20, circa 2005 (right)

James P. Higham III

Last seen in Youngstown, Ohio on January 3, 2002



Vital statistics: Biracial (asian/white) male. Born on December 3, 1985. Black hair, brown eyes. His nickname is "Jimmy." He speaks Japanese and limited English. He has a mole on his right cheek near his nose and may dye his hair red. He is developmentally disabled and has the mental capacity of a fourth grader along with emotional problems. He was supposed to be taking medication for these conditions but was off them when he vanished. Last seen wearing a black shirt, blue jeans and sneakers. Was sixteen at the time.

Circumstances: At the time of his disappearance James was living with his father's ex-wife's sister, Jennifer Lynn Snyder, and David Sharpe. He had lived in Japan for most of his early life and his father was unable to care for him due to drug addiction. In March 2002, Sharpe and Snyder were charged with child endangerment in connection with Higham's disappearance. The charge is due to the fact that they did not report him missing for twenty-eight days. They continued to collect benefit checks from the government for James' care. James' relatives claim that no one besides his guardians had seen or spoke to him in months before he was last seen by them. They also claim to have seen him with bruises on his body and some say they made reports of abuse; however James' file was lost by the social services department and no record of investigation could be found. Snyder initially claimed she was homeschooling him but that was found to be false. His guardians had stopped giving him medication due to a dispute with his doctors; relatives of James claimed they had a history of drug abuse and violent behavior in addition to this. Sharpe and Snyder reported James as a runaway, but his relatives suspect foul play. In 2007, while Snyder was serving a year in prison for probation violation in an unrelated case, she went to authorities and stated Sharpe had drowned and dismembered Higham. She was charged with child endangerment, permitting child abuse, gross abuse of a corpse and evidence tampering related to Higham's presumed death. Several months later, Sharpe was charged with murder, tampering with evidence, endangering children, permitting child abuse and gross abuse of a corpse in connection with Higham's case. Authorities stated Higham had been drowned and dismembered on or around June 15, 2001. Snyder received four years in prison for her role; Snyder has yet to be tried. James' remains have not been found. Classified as Endangered Missing.

Reason for inclusion: The case was closed in early 2008 after Snyder's trial.

Contact info: Mahoning County Sheriff's Office at 330-740-2370.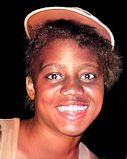 Above: Alishia Miller in 1989

Alishia Dachone Miller

Last seen in Detroit, Michigan on January 4, 1989



Vital statistics: Black female. Born on August 14, 1975. Brown hair, brown eyes. She wore her hair gelled down with short bangs at the time of her disappearance. She has a scar on her back. Last seen wearing a multi-colored ski jacket, acid-washed jeans, a black and red sweater, and white and yellow gym shoes. Was thirteen at the time.

Circumstances: She was last seen leaving her family's home in the Outer Drive - Chalmers area to go to the store at approximately five in the evening. She is believed to have left of her own accord. Classified as an Endangered Runaway.

Reason for inclusion: Miller's case was closed in late 2007.

Contact info: Detroit Police Department, 9th Precinct at 313-224-1510.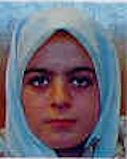 Above: Sohaila Mohammad in 2001

Sohaila Omar Mohammad

Last seen in Phoenix, Arizona on July 8, 2001



Vital statistics: White female. Born on February 13, 1984. Brown hair, brown eyes. She is of Arabic descent. Some agencies give her first name as "Soliar." Was seventeen at the time.

Circumstances: She was last seen at her family's residence in Phoenix, Arizona during the evening hours of July 8, 2001. None of her relatives witnessed her departure from the house. She has never been heard from again. She disappeared under unclear circumstances. Classified as Endangered Missing.

Reason for inclusion: Mohammad's case was closed in 2004.

Contact info: Phoenix Police Department at 602-262-6151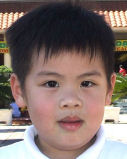 Above: Dalton Ngo in 2008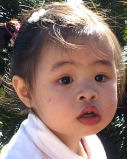 Above: Vivian Ngo in 2008

Dalton Duy and Vivian Vi Ngo

Last seen in Houston, Texas on November 29, 2008



Vital statistics: Dalton is an asian male. He was born on December 10, 2004. Black hair, brown eyes. Was three at the time. Vivian is an asian female. She was born on January 13, 2006. Black hair, brown eyes. Was two at the time.

Circumstances: They were abducted by their non-custodial mother. Photos and vital statistics for her are not available. They may be in Canada. Their father has applied for their return under the Hague Treaty. Classified as a Family Abduction.

Reason for inclusion: The Ngo childrens' case was closed in late 2010.

Contact info: Houston Police Department at 713-884-3131



Page Nine

Back home