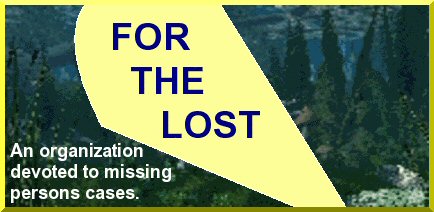 Above: Varvara Lazaridis in 2002 (left) and an image circa 2007 (right)

Varvara Theodora Lazaridis

Last seen in West Olive, Michigan on November 5, 2002



Vital statistics: White female. Born on July 2, 2000. Brown hair, brown eyes. Her nicknames are "Barbara" and "Veda." She has a small birthmark on her lower leg. Was two at the time.

Circumstances: She was abducted by her non-custodial father, Emmanuel Nicholas Lazaridis. A photo and vital statistics are posted below. Her parents married in 1995. In Decmeber 2001, her father accepted a job in France with the World Health Organization. Her father and mother, Christina Lazaridis, moved in February 2002 to Delaware and in May 2002 to France. The marriage fell apart and Christina moved in September 2002 to Michigan where her parents reside. Emmanuel corresponded with her on several occasions asking her to bring Varvara back to France and give him sole custody of her. When Christina was hospitalized custody of their daughter was given to her maternal grandparents. Emmanuel returned to the US to protest this, and he was given temporary custody of Varvara with orders not to leave the Michigan area pending the result of the custody petition. Emmanuel then petitioned this by saying Varvara and him now lived in Delaware with his parents and requested permission to take her out of the country. When officials tried to perform a welfare check the paternal grandparents said they did not live there and they had not seen either of them since November. He then tried to get full custody and a divorce in France, but a hearing was suspended once the court heard of the Michigan hearings and custody of Varvara was eventually given in France to Christina. This ruling was registered in Delaware which considers the rulings of other countries the same as rulings from other states. He also applied in the Domincan Republic for divorce; it was granted in 2005. At some point they went to Greece where they are believed to still reside. A felony warrant for kidnapping was issued for him on October 7, 2004. Emmanuel has tried to get the Michigan and France rulings reversed arguing that registering the ruling in France was against his constitutional rights and the rights of Varvara. In January 2010 the US Court of Appeals dismissed these motions. He is still wanted in the United States and France; Varvara has an Interpol Yellow Notice designating her as missing and there is a Blue Notice for her father informing Interpol about the warrants for his arrest. He was briefly arrested in France, but fled before Varvara could be returned to her mother.



Above: Emmanuel Lazaridis in 2003

Vital statistics: White (Greek) male. Born on March 3, 1970. Brown hair, hazel eyes. He may use the alias names "Manny," "Manoli," or "Manolis." He has scars on both of his lower legs. Was thirty-three at the time.



If you have any information as to Varvara's whereabouts, please contact the Ottawa County Sheriff's Office at 616-738-4092. Any information received can be kept confidential.




Information used to compile this case file came from the following sources:
The National Center for Missing and Exploited Children
The Doe Network
The Charley Project
NamUs National Missing Persons Data System
MLive: Everything Michigan
MoreLaw.com
US District Court of Delaware
United States Court of Appeals

Back to the case files

Back home