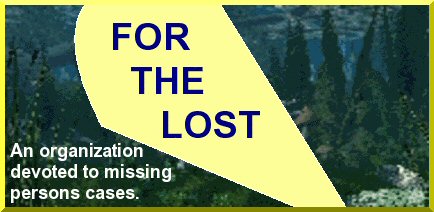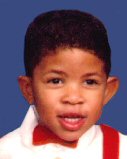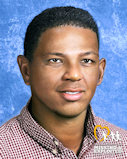 Above: Reuben Blackwell in 1996 (left) and an age-progressed image to 28, circa 2019 (right)

Reuben Bennett Blackwell II

Last seen in Clinton, Maryland on May 6, 1996



Vital statistics: Black male. Born on December 29, 1992. Black hair, brown eyes. He may go by his middle name, "Bennett." Was three at the time.

Circumstances: He was abducted by his non-custodial father, Reuben Bennett Blackwell Sr. A photo and vital statistics are posted below. At the time he was abducted, his mother, Deborah Blackwell, and his father were having marital issues. Deborah said he was verbally abusive and in the days before the abduction he would throw objects around. He was served with an order to leave the home on the above date when he picked his son up from day care, and he fled with his son after that. There is a felony warrant out for his arrest on charges of kidnapping and an FBI warrant for unlawful flight to avoid prosecution was issued for him on September 22, 2000. They may be traveling in a blue 1993 Volvo 940. Reuben is considered at risk; his father mailed funeral arrangements for him and his son to his father's mother. Caution is advised.





Above: Reuben Blackwell Sr. in 1996 (left) and an age-progressed image to 65, circa 2021 (right)

Vital statistics: Black male. Born on December 6, 1956. Black hair graying at the temples, brown eyes. He has high blood pressure. Was thirty-nine at the time. CAUTION ADVISED - THE ABDUCTOR HAS THREATENED TO HARM HIS SON AND HIMSELF.



If you have any information as to Reuben's whereabouts, please contact the Prince George County Police at 301-868-8773. Any information received can be kept confidential.




Information used to compile this case file came from the following sources:
The National Center for Missing and Exploited Children
The Doe Network
The Charley Project
NamUs National Missing Persons Data System
The Washington Examiner
Federal Bureau of Investigation
CNN

Back to the case files

Back home