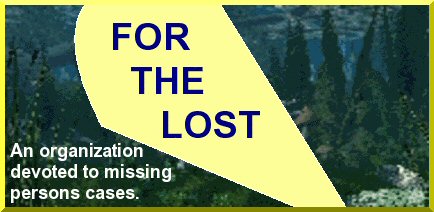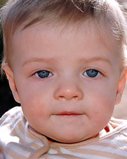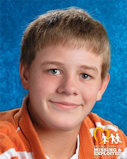 Above: Gabriel Johnson in 2009 (left) and an age-progressed image to 12, circa 2021 (right)

Gabriel Scott Johnson

Missing from Tempe, Arizona since December 27, 2009



Vital statistics: White male. Born on May 3, 2009. Light brown hair, blue eyes. He may use the last name "McQueary." Last seen wearing a white flannel pajama set with reindeer, Santas, and Christmas trees on it. Was seven months at the time.

Circumstances: He was initially abducted by his non-custodial mother, Elizabeth Johnson. A photo is posted below. Gabriel's father, Logan McQueary, had just won custody of him in court. Previously the two had lived together in Tempe. According to McQueary, Johnson did not take care of the baby when he was at work and would tell him to "shut that thing up." Johnson had previously been arrested for vandalism of the apartment the two lived in; when McQueary was at work she smashed several items and took a knife to Gabriel's belongings. The charges were later dropped. Johnson had also accused him of kidnapping Gabriel in early December, but he had in fact been left in the care of others by Johnson herself. She had previously threatened to harm Gabriel. She was last known to be with him in San Antonio, Texas. From there she took a bus to Miami Beach, Florida under the alias "Elizabeth Jones." She was arrested there on December 29 on charges of custodial interference. Her car, a white 1995 Oldsmobile Delta-88, AZ plate AGZ4214 was also missing but was later located. She had previously text messaged McQueary saying that she had smothered Gabriel to death and had dumped his body in a dumpster. She stated she would be leaving the country and would not reveal the whereabouts of Gabriel's remains until then. She intitally stated she did not know his whereabouts, and then said she had given him to a couple in a San Antonio park, Raymond Rimkus Park. The couple is described as white, in their mid-thirties, and live in the San Antonio area. The woman is about 5 feet, 3 inches tall and has short black hair. The man is tall with short black hair and heavyset. A woman who claims she was hired to baby-sit Gabriel in San Antonio says she saw a man meeting this description with Johnson. She also stated Gabriel was not well taken care of and Johnson slept with a butcher knife beside her bed. Before she abducted Gabriel, Johnson had been trying to adopt him out to another couple, Jack and Tammi Smith. They could not adopt him because McQueary had refused to sign over his rights to his son. Johnson tried to get McQueary to sign the adoption papers and attacked him at his work when he refused to do so. The Smiths say that Johnson claimed McQueary was abusive to her and her son. It was later discovered that Tammi Smith was initially helping Johnson keep Gabriel from McQueary and that she had told Johnson to list a relative of hers as a possible father to Gabriel. The relative denies ever meeting Johnson. Smith was later charged with forgery and conspiracy to commit custodial interference. It was discovered that Johnson had sold numerous items to finance her trip and had given away many of Gabriel's belongings on Craigslist. Johnson was charged with kidnapping, child abuse, custodial interference and conspiracy to commit custodial interference. While in jail, she attacked two female inmates with cleaning spray in the eyes. She was ruled incompetent to stand trial several times and was finally tried in October 2012. She was convicted in December 2012 and was sentenced to five years in prison. She was released in July 2014. A landfill search was conducted for Gabriel in late January, but no evidence pertaining to his case was found. Logan McQueary has stated that he believes Gabriel is still alive and was possibly involved in a black market adoption. Johnson's grandfather says she led a difficult life; her father was addicted to drugs and her mother was an alcoholic, and she lived in five different foster homes as a child. She was supposedly prone to fits of rage as a child and broke windows as well as chasing her father around with a plunger handle. Her parents are now deceased. Interestingly, Gabriel is not the only member of the family to go missing; Elizabeth's maternal aunt, Jane Louise Puckett, vanished in 1977. Puckett was believed to have been abducted, and she was located safe in the summer of 2009. Many investigators believe that Gabriel was in fact the victim of foul play, but no murder charges have been filed in his case. He remains missing.




Above: Elizabeth Johnson in 2009



If you have any information as to Gabriel's whereabouts, please contact the San Antonio Police Department at 210-207-7273. Any information received can be kept confidential.




Information used to compile this casefile came from the following resources:
The National Center for Missing and Exploited Children
The Charley Project
Texas Department of Public Safety
NamUs National Missing Persons Data System
KTAR.com
azfamily.com - Phoenix News
ABC15.com
Maricopa County Superior Court
ABC News
The Arizona Republic
KABB Fox San Antonio
Websleuths Crime Sleuthing Community
America's Most Wanted (site now defunct)

Back to the case files

Back home