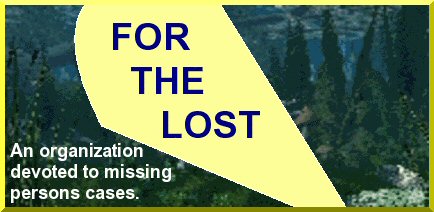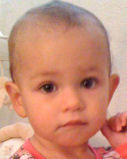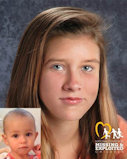 Above: Gabrielle Dahm in 2010 (left) and an age-progressed image to 13, circa 2021 (right)

Gabrielle Nicole Dahm

Last seen in Fort Lauderdale, Florida on August 2, 2010



Vital statistics: White female. Born on December 26, 2008. Light brown hair, blue eyes. She has faint scars around her ankles from too-tight sandals. Her nickname is "Gabby" and some agencies give her name as "Gabriella." She could say a few one-syllable words at the time of her abduction. Was one at the time.

Circumstances: She was abducted by her non-custodial mother, Leslie Shelia Delbecq. A photo and vital statistics are posted below. Gabrielle was supposed to be delieved to her father, Christopher Dahm, for a visitation on the above date but never was dropped off. Her parents had joint custody of her with the agreement she was not to be taken out of the country. He later learned Delbecq had bought one way tickets to Abu Dhabi, United Arab Emirates through Belgum, where she has citizenship. Gabrielle did not have a passport and it is unknown how she was allowed to leave the country without one. In October he was granted full custody of her and an order was issued for Delbecq to return Gabriella to the United States. Delbecq has not responded to any calls or e-mails regarding bringing back Gabrielle. They are believed to be in the company of her parents, Jeanine De Riddere, and Philippe Delbecq. Photos and vital statistics for them are posted below. Warrants for international parental kidnapping was issued for all three of them on June 21, 2011. Philippe worked for an airline at the time and is believed to have bought tickets for his daughter to leave the country with his influence.




Above: Leslie Delbecq in 2010

Vital statistics: White female. Born on May 12, 1981. Blond hair, hazel eyes. She is a dual citizen of the United States and Belgum. She may dye or highlight her hair. Was twenty-nine at the time.




Above: Jeanine DeRiddere in 2010

Vital statistics: White female. Born on April 24, 1951. Brown hair, brown eyes. She is a dual citizen of Belgum and the Democratic Republic of Congo. Was fifty-nine at the time.




Above: Philippe Delbecq in 2010

Vital statistics: White (Belgian) male. Born on April 12, 1951. Gray hair, hazel eyes. He was a Chief Training Pilot for an airline company at the time. Was fifty-nine at the time.



If you have any information as to Gabrielle's whereabouts, please contact the Fort Lauderdale Police Department at 954-828-5700. Any information received can be kept confidential.




Information used to compile this casefile came from the following resources:
The National Center for Missing and Exploited Children
The Charley Project
Interpol
Federal Bureau of Investigation
Florida Missing Persons Search
Help Save Gabby
NamUs National Missing Persons Data System
ABC News
South Florida Sun-Sentinel

Back to the case files

Back home