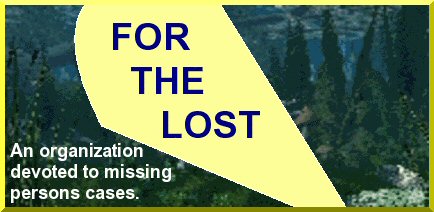 We accept cases on an individual basis. Family and law enforcement may submit any cases to us. Cases may be e-mailed to us here.

There are several criteria for a case before we can take it on. They are as follows.


For any section of the site, the case must be at least six months old, or a "cold case." This is done by month and not specific date; if a person vanishes on January 29 they can be on the site on July 1.
The person must have disappeared from a country where the primary or official language is either English or Spanish.
The case must be within a reasonable timeframe. Cases where the person is obviously deceased due to time factors will not be accepted. This is usually when the person would be one hundred years old or greater if still alive.
There must be a picture or sketch of the missing person. If there is a group of people missing two thirds of the people must have a picture or sketch. (this is adjusted to one half if there are only two missing) For California Kids cases missing with adults there must be a picture of at least one of the children.
Vital statistics must be given. This includes hair color, eye color, birthday, and any other identifiying marks, such as birthmarks, skin discolorations, or scars.
For inclusion in the case files, if the case is of a runaway it must be at least five years old.
For inclusion on Jahi's Pages, the case must have been either unable to be registered with law enforcement or has been closed without the individual being located, provided there is not a time factor involved. Lost/Injured missing cases are not eligible.
For inclusion on the Adam Haseeb Memorial pages, the case must be registered with law enforcement. Cases from the above missing persons' sites are the most likely to be posted, but other cases meeting the criteria can be posted. Parent requests come first, then older cases (the person missing for eight years or more), then newer cases (missing for seven years to six months), then foster children cases. We are aware most sites are more likely to post if the child is a foster child, but our site is concerned specifically with left-behind parents and thus more cases where there is one will be posted. Non-custodial parents abducting children will be posted in the order of regular cases provided the child or children are in the care of a relative. Also, the intent of the case must be to abduct a child or children to keep them away from their guardian - a relative that abducts a child for the sole purpose of killing them is not allowed, although children abducted after the homicide of a guardian or relative is allowed.
For the For the Lost recovered gallery, the only requirement is the person was missing for at least 24 hours. Runaway photos will only be added if the person is gone for at least six months. There is no country requirement; people missing from any part of the world can be added.
Once a case is accepted, we will add it to our site. We will, in addition to investigating the case, offer theories and conjecture provided it is on the main case files pages. These are not intended to be definite, but to rather aid us in investigation. We will work with law enforcement to get additional details. If there is anything about the case you do not wish listed on this website, we will not list it. If you are a friend or family member of one of the starter cases and want something to be taken down e-mail us and it will be done.



Back home