Today is the thirty-seventh anniversary of the disappearance of Robert Carlton Heintz. He was last seen in the woods outside Larder Lake Public School in Kearns, Ontario, Canada.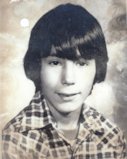 Above is a picture of Robert. If you can, please go to the link above and print out his poster. If you have any information as to his whereabouts, please contact the Ontario Provincial Police
Missing Persons and Unidentified Bodies/Remains Unit at 877-934-6363.
del.icio.us this!