Today is the sixth anniversary of the disappearance of
Raphael Shuler Smith. He was abducted by his non-custodial mother from Charlotte, North Carolina. They may have traveled to Guyana.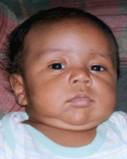 Above is a picture of Raphael . If you have any information as to his whereabouts, please contact either the National Center for Missing and Exploited Children at 1-800-THE-LOST or the Charlotte Mecklenburg Police Department at 704-353-1000.
del.icio.us this!